Louis-Ferdinand Céline (real name Louis Ferdinand Auguste Destouches) was a French novelist and doctor best known for his book Journey to the End of the Night (in French: Voyage au bout de la nuit). Although not particularly widely read in the United States anymore, Céline is still considered one of the most influential French writers of the 20th century. His impact, if traced through the rather pretentious halls of literary history, was large and far-reaching.
Born in 1894, Céline spent his formative years alternatively attending school and working the odd job until the age of 18, when he finally decided to become a doctor. Before doing so however, he joined the French Army two years before the start of WWI to serve a 3-year stint in the 12th Cuirassier Regiment (not to be confused with the 13th Cuirassier Regiment). At first unhappy, he eventually adapted, serving with gusto. From the beginning, Céline's unit saw action and it was on October 25, 1914 that Céline was wounded in the right arm delivering a message under heavy, sustained German fire. Not thinking his wound was cool enough to get the ladies, he instead perpetuated the rumor that he was shot in the head. Regardless of the actual location of his wound, he was a French medal and featured in the weekly  l'Illustré National of November 1915.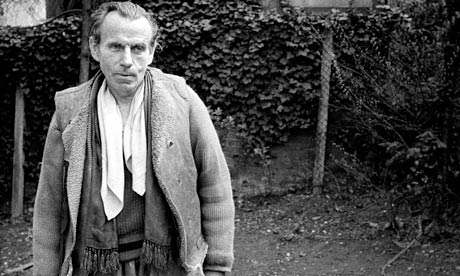 Eventually, after moving to London to work in the French passport office, he was discharged from the military due his arm wound making him physically unfit for duty. Sometime during 1916, he visited Africa, but then he returned and decided to become a doctor (I'm aware of the lack of detail in the above sentence…not much is known about the trip). In 1919, Céline, who was finishing the second part of his baccalauréat, met Monsieur Follet, the director of the medical school in Rennes. Befriending him (and eventually marrying his daughter), Céline was accepted into the university at Rennes. He finished his formal medical schooling by 1923. His thesis, often considered his first literary work, was on the life and work of Ignaz Semmelweis (coincidentally, the thesis was named The Life and Work of Ignaz Semmelweis). 

In 1925, after working a mere year as an intern in a Paris maternity hospital, Céline left his family, whom he would never see again (his family included his wife Edith Follet, and their daughter Collette Destouches who was born in 1920). He began working for the League of Nations and travelled around the world before eventually settling back in Paris, where he set up a private practice specializing in obstretrics.
1932 saw the publication of Céline's best known work Journey to the End of the Night. Upon publication it immediately caused a stir for its use of rhythms, slang and vulgar speech.  Based on Céline's own life story, it was a book full of nihilistic, cynical humor. In the work itself, he lambasted human nature, human institutions, and humanity altogether. His unbridled pessimism would be a cornerstone of his writings to follow. Death on the Installment Plan was published in 1936, and it too offered much of the characteristic pessimism Céline was known for. Additionally, it cataloged the full spectrum of human suffering.
From here, Céline's life went downhill (don't worry, it was his own fault). In the late 1930s, as Europe spun towards WWII, Céline began publishing a series of antisemitic pamphlets. Beyond his normal pessimism, the pamphlets also contained large doses of racism, bigotry and antisemitism. Right before the war started, Céline even campaigned for an alliance between France and Nazi Germany.
After the occupation of France, Céline continued to write antisemitic works, often submitting letters to several collaborationist journals. Interestingly enough, some Nazis even though the writers antisemitic harangues were a bit over the top, containing "filthy slang" and "brutal obscenities". When Germany finally lost the war in 1945, he fled to Denmark. Named a collaborator and sentenced to one-year in prison for the crime of being an asshole, Céline was granted amnesty and returned to France in 1951 (I am not sure why this is, but it seems unfortunate).
As his life progressed, Céline eventually regained his fame through a trilogy of books that described his exile. However, he would forever bemoan his ruined reputation, never expressing regret or guilt for his antisemitic works. Instead, he would continually publish more statements of Holocaust Denial until his death in 1961.
While I do not support or endorse the man himself, I do find many of his works interesting, if only for their purely literary value. Although he garnished a reputation as a bigoted antisemite in his later life, his first novels were instead more of an equal opportunity invective against all races and all people. Even today, his novels are cited as wonderful examples of extreme pessimism, black comedy, and nihilism.
If you want to know more about Céline, I suggest reading Journey to the End of the Night or Death on the Installment Plan. In addition, you can find a biography of the man here. If, on the other hand, you'd rather read more about other artists/writers/people who created things, visit our Facebook page or follow us on Twitter!